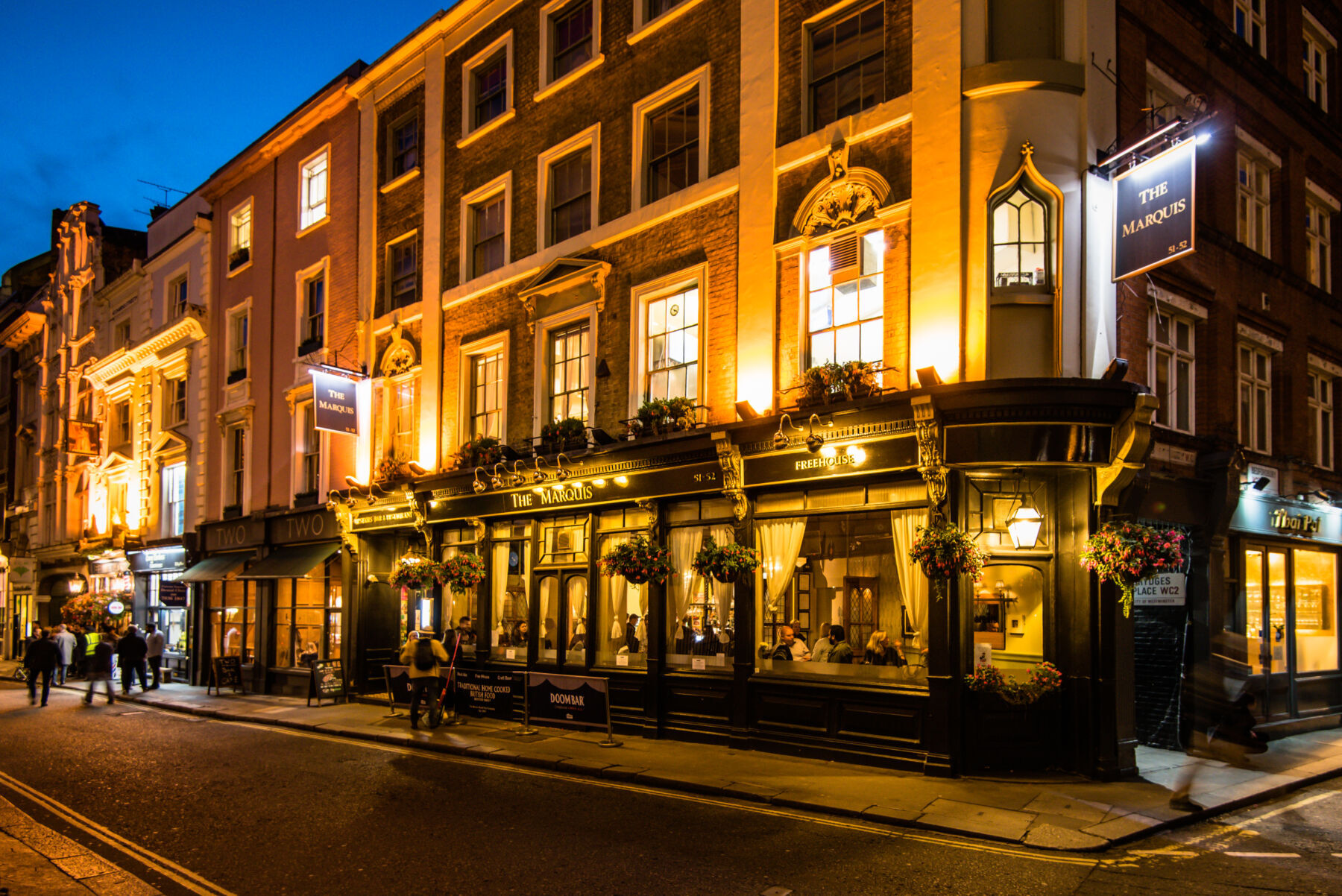 The Marquis - Booking Enquiry
What's On
'OLIVE' A GOOD MARTINI...
Try our totally Martini Cocktails on tap! Choose from Passionfruit or Espresso - you wont be disapointed!
About The Pub
Our second child, The Marquis in Covent Garden is ideally situated within a few minutes walk of some of London's greatest landmarks, Trafalgar Square, Leicester Square and Soho to name just a few. Our charismatic Manager, Tommy has made The Marquis a record lovers hot spot. With his vast collection of vinyl's, regular live music, promotions and events The Marquis is a must visit for anyone in the area looking for a fun bar with a great atmosphere. Recent cameo film appearances in 'Mary Poppins The Return' and 'Last Christmas', The Marquis has seen its fair share of stars.

If you're hungry, the upstairs bar and dining area is a hidden gem for a spot of home cooked food. Also available for private functions for groups up to 50.
Our Food Menu

We are proud of our freshly prepared, British pub menu. Where possible we use locally sourced suppliers and ingredients and whilst we make sure not to compromise on quality – our menu is excellent value for money (It's all under £10!)

Buffet Menu

Our bespoke menu caters for all parties from 20 – 200 people. Its designed to ensure we satisfy every appetite! However, we are also happy to tailor make a buffet to suit your needs and event so just contact us for more info

Our Wine Menu

Our wine menu been carefully selected to offer a variety of both old and new world wines. We recommend you try the Chapel Down Brut NV. A great example of a classic English sparkling wine, grown and produced in Kent.
Reviews
"Amazing Venue, Great Atmosphere" We hired the function room for a client Christmas do. The buffet was delicious and our bartender Bethany was really wonderful and made it a great atmosphere and really enjoyable evening. The room was really nice and the added record player and selection of records, was a great quirk and we would definitely hire the room again. Thanks to all the staff for their wonderful hospitality.

Date of visit: December 2021

Love this pub. We stumbled across it a couple of months ago and we keep going back every time - even though we mean to try others. It's just too nice and has become our local in the West End. So what do we like about it? - the staff: they genuinely seem to enjoy their work and have good rapport. - the music: it's played from LPs! They give it that wonderful, mellow, rich, comforting sound. Lots of classic albums you'll have forgotten about. The staff seem to dance and sing along much of the time which is awesome. - the beer: good selection of ales and fizzy lagers - the windows: the seating is mostly in the windows so you can sit and chat and observe the people going by outside - the crowd: it's a mixed and friendly lot that hang out here. Just such a nice vibe.

Date of visit: November 2021

"Great spot - what they do, they do it well" It's great to stumble upon a friendly, attentive pub with great music and prices that don't break the bank. They have the right idea - offer value for money and people will stay, drink more, return. Break the bank and people will move on! Love the vinyls they play and the atmosphere is great. No frills pub, but a real gem

Date of visit: November 2021
Opening Times
Monday to Saturday: 12:00pm - 11:00pm
Sunday: 12:00pm - 8:00pm
Bookings, Enquiries, Feedback

We're always up for a chat!